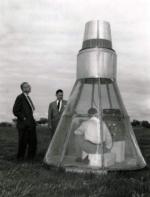 "Every American voice transmitted from space was via Collins Radio Co. equipment"
Those who may be interested in the technical details and the history of the space program leading up to Apollo should find plenty of interesting reading at this site:
https://www.hq.nasa.gov/office/pao/History/SP-4204/contents.html
Used with permission.
The Manned Space Flight Network antennas operated in the S-Band, on frequencies around 2.2 GHz. The system employed was known as the "Unified S-Band System" (USB). This system combined tracking and ranging; command, voice and television into a single antenna.
S-Band frequencies were minimally attenuated by the Earth's atmosphere and were suitable for both Earth orbit and Lunar use.
A USB-equipped antenna could transmit and receive simultaneously. Voice, telemetry and television were all received together. From the Lunar Module, for example, slow-scan television was frequency modulated on the carrier, and telemetry was phase modulated on the subcarriers. In addition, the system allowed for very accurate ranging to determine the distance of the spacecraft from Earth. JPL developed the Block III Receiver Exciter and Mark I ranging system. Collins Radio developed nearly all of the remainder of the USB system.
Some Apollo-era communications modules are part of the display at the Collins Museum in Cedar Rapids. Virtually every unit was redesigned after the tragic capsule fire in 1967 to a more modular approach that incorporated hazardous area protection techniques.
Fortunately "space collectors" have preserved this hardware and no doubt kept at least some of it out of the landfills and scrappers. The pictures below are from the http://www.collectspace.com website which is well worth a visit.
See the "Gallery" section for more photos.