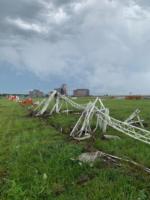 watch the old tower fall (video link below)
The WBBM-AM radio tower has moved out of Itasca and found a new home in Bloomingdale.
After 77 years, the over 680-foot WBBM-AM radio tower came down Thursday in Itasca. The property sold for development and WBBM Newsradio's new tower will now be located in Bloomingdale, at the same site as its sister station,WSCR (670 The Score), and will be diplexing off of their tower.
The tower located just northwest of the I-290/Elgin-O'Hare Expressway interchange in Itasca was not WBBM Newsradio's first transmitter site, or even its first 50,000-watt site.
The station signed on in 1923 from Lincoln, Illinois, down near Springfield, and moved to Chicago in 1924, eventually settling down at the Broadmoor Hotel. In 1927, WBBM-AM moved its transmitter again, jumping to "super power" - 5,000 watts - from a new site in Glenview, according to Fybush.com.
In 1929, the power was doubled to 10,000 watts, helped out in 1932 by the construction of a "T"-type antenna strung from two 305′ towers. WBBM-AM increased power to 25,000 watts, then to the full 50,000 watts in 1935.
Four years later, WBBM-AM replaced the old antenna with a 490′ Blaw-Knox vertical antenna, only to lose the new tower to an ice storm a few months later, on April 13, 1939. A replacement tower was back up by September, but the Glenview site's days were numbered, thanks to the growth of the nearby Glenview Naval Air Station.
In March 1941, as part of the implementation of the North American Regional Broadcasting Agreement, both WBBM-AM and KFAB were shifted to 780 kHz. After the attack on Pearl Harbor and the resulting U.S. entry into World War II, there was an increase in air traffic at Naval Air Station Glenview, and the Navy asked WBBM-AM to move its towers to a new location.
On May 1, 1942, the Navy assisted WBBM-AM in moving its transmitter and tower to Itasca, about 11 miles southwest of the old site. WBBM-AM signed on from its new Itasca home that same day.
WBBM-AM had a nearby neighbor at its new home in Itasca - just a mile and a half to the north on Rohlwing Road, WGN (720) had moved in just a few years earlier, abandoning its old site far to the west in Elgin.
WBBM Newsradio's site in Itasca boasted two towers: a guyed main tower 695 feet tall and a 253′ self-supporting auxiliary tower.
On July 18, 2019 WBBM Newsradio's transmitter site moved to Bloomingdale, just off Army Trail Road, to diplex with sister station WSCR (670 The Score). From the somewhat taller WSCR antenna, WBBM Newsradio will drop down to 35 kW days, 42 kW nights, but with no significant reduction in its coverage.
"The day and night power reductions are required to satisfy FCC interference protection requirements toward other co-channel and adjacent channel stations," according to the FCC application filed by WBBM Newsradio.
Fybush reported it would result in "no significant reduction in [WBBM's] coverage." Video: