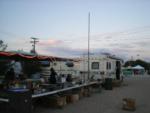 Hamfests return in 2021 to Illinois, Iowa, and Wisconsin!
South Milwaukee Hamfest - Oak Creek WI - July 10
KARSFest at Will County Fairgrounds - July 18 - (no flyer yet)
Tri County Radio Club Hamfest - Jefferson WI - Aug 7
Cedar Rapids Hamfest and Iowa ARRL convention - Aug 7-8
---
The 2021 DeKalb (Sandwich) and Starved Rock hamfests were great successes! This was the first time for Starved Rock Radio Club to hold the hamfest in Mendota IL which worked out great - hope it helps the club rebuild what was once one of the best hamfests in the area..
The South Milwaukee 'fest is special because it's what a hamfest should be, to my way of thinking at least - a big tailgate swap area and nothing else. No "indoor sellers" (at least not many), no new equipment dealers, and no seminars or other distractions from the business at hand - buying and selling old radio junk. It's always been the kind of 'fest where a load of "barn fresh" gear is likely to show up for picking, and where friends from half a state or more away will make the journey. Really glad to see it's back! (even without the free beer)
And for those who are coming up Friday night and staying overnight - Jeff W9XRT has arranged for a group dinner get-together at a nearby brew-pub. Contact him at jeff.c.main@gmail.com
W9RAN Memories of South Milwaukee Hamfests past...
Since it was a Saturday fest, my hamfest buddy KE9HO (SK) and I would leave Freeport in the ONERADIO-RV hamfestmobile after work and head up Hwy 75 to the South Beloit American Legion for their excellent fish fry. It was always a 15-20 minute wait for a table but no matter because we didn't want to arrive at Oak Creek right before 10PM as that's when the Bingo game would be over and you couldn't park up close before then anyhow. After the inevitable argument with the club's parking czar about where the aisles were supposed to be, I'd park and we'd hit the sack, because you had to move out at the sound of of first tailgates popping open, and at Oak Creek that can be VERY early!
Around noon we'd enjoy the free beer (which the club was obligated to pay for, so why not?) - then hit the road south, down the Tri-state to The Ike, then west to Highway 47 and down to the Bliss Woods Forest Preserve which had (then) a small campgrounds with electricity (importan on the first weekend of July). The reason being, it was about 1 mile down the road from Waubonsee Community College, which would be the site of another Hamfest on Sunday! Although it was sometimes hot enough that it felt like the black asphalt parking lot was sticking to your feet, that was a good swapfest as well. And thus - a "Double Header Hamfest Weekend".
One trip was more memorable because while heading south on I-294 several passing cars waved and hollered, which caused me to pull over on the shoulder to see what was wrong with the camper. One car pulled over behind me and said "Something is leaking out!" which was not a good thing to hear. Fortunately it wasn't gasoline (worst case) or "black water" (2nd-worst) but in fact was from an overfilled grey water tank which had partially come loose, allowing its contents to spill out. "Gray water" is what comes from the sink drains, so it represented no big problem til a dump station was found.
Living 2-3 hours from major population areas meant I either had to get up in the middle of the night or buy a camper to be able to be present at area hamfests when the bargains were still available. The ONERADIO-RV license plate was seen parked overnight at many area hamfests in the IL-WI-IA area over the years! Photo above is from Peoria 2007, in front of the "Taj", with the famous WA9VRH rib smoker visible in the foreground.