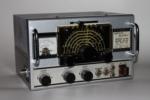 Wednesday is Elmac Night!
NEW NET CONTROL: Rex WA6GYC from Troy MI picked up the Elmac Net on Febr. 27 and did a Fine Business job! Hopefully he will be willing to continue in this role, as the lack of a primary net control and difficult propagation at this point in the solar cycle have made it challenging in past weeks. Please turn your radio on - Wednesday is Elmac Night! (Execept for the first Wed. of the month when it's CCA AM Net night). And as usual, the Elmac net will go on vacation during the summer months of QRN and outdoor activities
Thanks Rex for stepping up!
---
Tonight (12/12/18) was the first Wednesday night after the untimely passing of N8ECR, the originator and net control of the Mighty Elmac Net and many have wondered what will happen to the net.
The Net will go on, most likely with a net control in Michigan, which would mean that most participants would come from the upper midwest - at least in normal times. But the propagation we've had on 75 meters has been anything but normal, and tonight's net was run by long-time participant KA2J from near Rochester NY, who heard my barefoot AF-68 from northwest IL just fine - a 600 mile path.
It may take a few week sto work out the new net procedure, but the net was important to Mike, that's why he was always diligent about finding a substitute if he couldn't be there. He would want the net to go on, and so it shall.
With the changing propagation the pre-net activities have been starting around 5PM central time on 3880 kHz with the official net at 6pm, or 0000Z. While the net commemorates the "Mighty" Elmac rigs, any kind of gear is welcome, as long as it can put out an AM signal. The Net has been a motivator for many to find, restore, and use Multi Elmac equipment, and a dozen or more Elmacs are typically heard when the band cooperates.

Wednesday is Elmac Night! (except the first Wed. of each month when the Collins AM net occurs instead). If you're anywhere in the eastern half of the country, give a listen on 3880 Wed. afternoon/early evenings and join us if possible.
There's a Multi Elmac group on Yahoo Groups: https://groups.yahoo.com/neo/groups/multi_elmac/conversations/messages