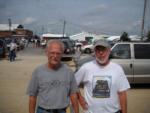 AM stalwart net control op and all-round good guy needs your thoughts and prayers
Febr. Update: Our AM pal K9QET has left the hospital and prsently is in an rehab facility. Please continue to include John in your thoughts and prayers for his continued recovery and rehabilitation. Hopefully he will be able to return home and rejoin the airwaves.
---
Thanks to Jerry W9JMK for keeping us informed of John's progress and to all the midwest hams who have sent cards and notes of support while John has been hospitalized.
---
Here's a pic of John and I at the Six Meter Radio Club/ARCI/MCRN Hamboree in Wheaton IL taken in June 2011: