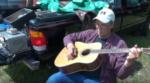 "If there's a ham radio heaven, they've got a hell of a net control operator"
Dedicated AM operator and long-time net control for the DX-60 and Mighty Elmac nets, Mike Beachy N8ECR became a silent key on Sat. Dec. 1, 2018. This is very sad news for all of us who have enjoyed talking with Mike for many years. I've never met Mike in person but through the bonds of ham radio he was a good friend. RIP Mike.
Mike's Sister called me tonight and told me they found Mike in his radio room dead.
He died of natural causes and will have visitation on Wednesday the 5th and burial on the 6th.
I don't know anymore details about where it will be. She asked me to pass this on to his radio friends.

This is a great loss of a good close friend and he will be missed by many of us radio operators...
Please pass this on to all that needs to know.

Sincerely,
Mike Sutphen – KD8CVY
Mike's Obituary:
http://www.champagnefuneralchapel.com/obituary/michael-beachy
Michael Eldon Beachy, 57, of Caseville, died at home unexpectedly Saturday, December 1, 2018 from natural causes.
Mike was born September 9, 1961 in Pigeon to Eldon and Joanne (Caister) Beachy. In 1980 he graduated from Laker High School. He worked for several of his family's businesses, including Beachy Poultry Farms, Pigeon Printing and Lefty's Diner and Drive In. He used his gift for electronics by collecting, selling and operating amateur radio. He was widely known and respected as a licensed amateur radio operator under the call sign "N8ECR," hosting a weekly discussion network which went all across the US. He was a self taught guitar player and devoted dog lover.
He is survived by his parents Eldon "Al" and Joanne Beachy of Caseville; siblings Brenda Kosenko (Michael Smukala) of Caseville, Murray (Robin) of Pigeon, Tim of Pigeon and Bethanne Beachy (Curt Rasmussen); and many nieces and nephews. He was preceded in death by his sister Jody Beachy.
Funeral services will be 11:00am Thursday at the Michigan Ave. Mennonite Church with Rev. Scot Wilson officiating. Burial will be in the church cemetery.
Visitation will be 2-8 Wednesday