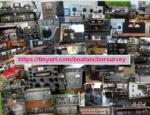 Let authors and organizers know what you're interested in
Take the Vintage Radio Interest Survey: https://tinyurl.com/boatanchorsurvey
This survey is intended to better understand your vintage radio-related interests for use by vintage radio authors, product developers, and event organizers.
Entering your email address helps to ensure the quality of the survey and enables you to receive an Executive Summary of the survey results when it is completed and will be kept confidential and not shared. This survey is not sponsored by or affiliated with any company or organization and is for informational purposes only.
Your participation is very much appreciated!