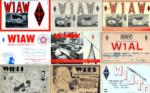 who doesn't love old QSL cards?
After the old Google+ site was shut down by Google, the amazing online collection of old QSL cards maintained by Bob Green, W8JYZ, has a new home - at his website. Browse thousands of vintage QSL cards
It doesn't take long to find a memorable name or callsign - maybe even someone you know!
Please share your appreciation with W8JYZ at the link on the home page for providing this great ham radio historical resource.