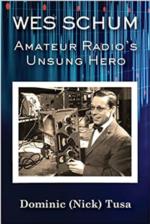 new book released, available on Amazon
My friend Nick Tusa K5EF has just released his book on the life of Central Electronics founder and ham radio pioneer, Wes Schum W9DYV.
Wes was not only an innovator but a crack salesman and promoter of single sideband in the early days and his transmitters and other products did more to popularize this new mode of operation than anything else. It wasn't until after Art Collins took a look at a CE transmitter in the Collins Radio laboratory that he started taking SSB seriously!
But like most ventures in life, the path was sometimes rocky and especially when pushing the technology envelope, problems and pitfalls arose. This book not only chronicles the history of the company and its founder, but provides insights on problem-solving and determination that are as valuable today as back in the 1950s. As Nick writes in the Amazon listing:
"On Thanksgiving Day 1961, Wes Schum was unstoppable. His Central Electronics Company had produced the world's most advanced single-sideband transmitter, setting the Amateur Radio World ablaze. Three months later, it was all over. 60 years later, learn why and what could have been. "
The softcover edition is just $20 and all proceeds from the sale of this book go to the W9DYV Radio Society LLC, which puts on the W9DYV Technical Symposiums at hamfests around the country. ORDER FROM AMAZON