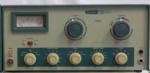 Celebrating the fun of low-power AM
While everyone who knew Mike N8ECR is shocked and saddend by his untimely passing, we commemorate his legacy of promoting low-power AM operation with the new DX-60 Net website: https://dx-60.net//index.cfm?key=main
Mike gave tirelessly of his time and energy to provide an opportunity for AM operators in the midwest part of the country to have fun, make friends, and play radio every Sunday morning. The DX-60 net originated on 40 meters in the 1990s, and will continue under the stewardship of Steve, W8TOW who is also one of Mike's long-term radio pals. The DX-60 Net starts at 7AM sharp on 3880 kHz every Sunday morning, preceded by a pre-net roundtable that is usually chaired by K8DBN. While any radio is welcome, it's not surprising to hear 10 or more DX-60s, both running through linear amplifiers and in their "bare metal" glory on a given Sunday morning. Who knows how many DX-60 acquisitions N8ECR has been responsible for?
In my case - it goes beyond the Heathkit DX-60, where I naturally prefer the original ("non-A or B") model from the Daystrom era, barefoot of course, along with the HG-10 VFO and HR-10B receiver, which does a very nice job on 75 meter AM. Then there's what I call the "Mobile DX-60", officially known as the MT-1 Cheyenne and the MR-1 Comanche, along with all the mobile trimmings including the mounting bracket that allowed this pair to fit under the dash on the transmission hump (remember them?). These two perform very well and several "Little Indians" are heard on the DX-60 net.
Last but not least is what Mike dubbed "The Impostor" - the model 390 Lafayette Starflite transmitter which is a DX-60 clone but with a mirror-imaged layout and obviously different cosmetics. Mine is paired up with the Lafayette KT-200 receiver at present, which was imported from Japan where it was made by Trio (which would later become known as Kenwood). Both are good performers that actually are better than the more popular Heathkits in some ways, even through they are mere pretenders to the thron occupied by Heathkit in the hearts and shacks of countless hams.
Give low-power AM a try! The DX-60 Net is the perfect place to prove that you don't need 300 watts to be heard, or that even 40 watts can be heard quite well hundreds of miles away without a linear amplifier. That's the beauty and purpose of the DX-60 Net!